by Chris Day | Mar 31, 2019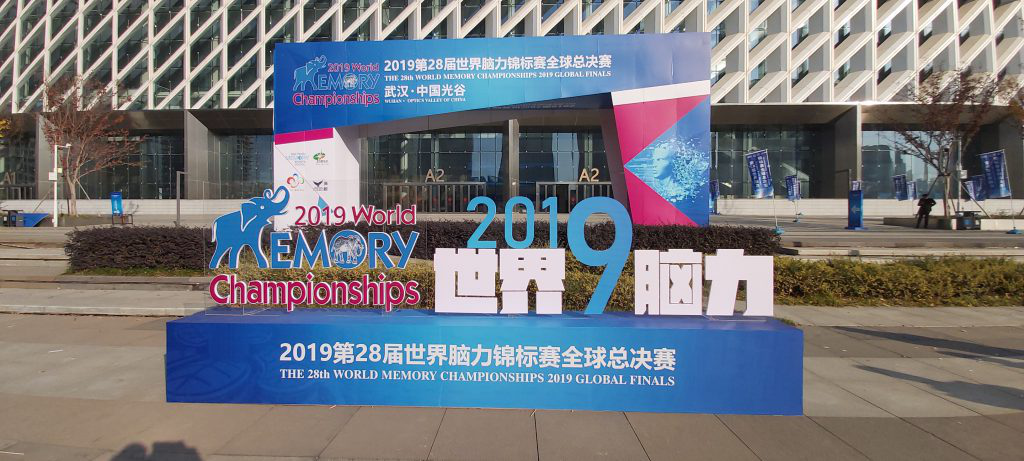 The results of the 28th Memory Championships will appear here as soon as they are released
The 28th World Memory Championships 2019 Global Finals, co-undertaken by the Government of Wuhan East Lake High-tech Zone of China and Wuhan Sea Whale Education Technology Co., Ltd., is currently underway in China Optics Valley Convention & Exhibition Center(Optic Cube), Wuhan East Lake High-tech Development Zone, Wuhan City, Hubei Province, China from 4th to 8th December, 2019. This will be the first time that the World Memory Championships Global Finals has been held in central China. This grand event will definitely promote the development of mind sports and global mental literacy.
For the next three days some 520 competitors from forty countries will be competing on ten different memory disciplines in what is the world most comprehensive test of memory.
The World Memory Championships are not a general knowledge quiz. Far from it! Competitors are presented with new information which they have to commit to memory in a fixed period of time. They then have to accurately recall that information against the clock. There are no prizes for getting it wrong! The cumulative scores from each discipline will then determine who becomes the World Memory Champion.
The ten disciplines begin on day one with Abstract Images. Competitors have 15 minutes to memorise as many as they can, and 30 minutes to recall them. The currently World Record holder is Hu Jiabao with a score of 804 points.
The second discipline on Day One is Binary Numbers – just zeros and ones. How many do you think you could remember?  The current record is 5597 memorised by Lkhagvadulam ENKHTUYA from Mongolian 30 minutes. How amazing is that?
Day One finishes with Hour Number. Sixty minutes to memorise and two hours to recall. The current record is 3260 number by Zhang Ying. An incredible achievement! But will any of these records be broken? We will know shortly!
Day Two of the Championships is Friday 6th December. The day starts at 9.15am with Names and faces for 15 minutes. This is followed by Speed Numbers which is in two rounds of 5 minutes. Then it is Historic and Future dates. All of the dates are fictitious, so nobody can swot up on their history in advance. The dates are all the product of an imaginative mind – the Chief Arbiter for the World Memory Championships, Phil Chambers. In a previous competition he famously included a date for cheese being mined on the moon!
The final discipline on Day Two is One Hour Cards. 60 minutes for memorisation, two hours for recall. The record of 1924 cards is held by Munkhshur NARMANDAKH IMM IGM from Mongolia.
The last day of competition is Saturday 7th December. This is always an exciting day as it is often impossible to predict the winner until the very last event. The day starts with Random Words for 15 minutes. The record is currently held by RI SONGMI from North Korea who is a junior competitor. She memorised 302 words in 15 minutes.
Spoken Numbers is next. Single digits are spoken at one second intervals and competitors have to memorise as many as they can without writing anything down. Not easy! The current record is held by Lance TSCHIRHART IMM IGM of the USA who accurately recalled 456 numbers. Wow!
The climax of the competition is Speed Cards. How quickly could you accurately memorise one shuffled pack of cards? The current official record is 13.96 seconds held by Zou Lujian IGM. Very often it is this event that decides the competition. All of the competitors will be tired after three long days in the competition. Should they go for a safe time and ensure that they don't make any mistakes, or should they throw caution to the wind and go for a fast score and risk losing everything? We can't wait to find out!
The new World Memory Champion will be announced at the Closing Ceremony on Sunday 8th December at 2pm.
Dates: 4th to 8th December, 2019 ( Beijing Time)
Address: China Optics Valley Convention & Exhibition Center(Optic Cube), Wuhan City, Hubei Province, China.
Schedule for this competition: