In order to further establish the standard for World Memory Sports development as it has endeavored to do since 1991 and boost the enthusiasm for memory sports worldwide, World Memory Sports Council has launched the WMSC Certification System.
The WMSC will issue copies of certificates for all achievements in different fields of memory sports, which shall include
WMSC MemoryChampionships Club
WMSC Licensed Arbiter of Memory
WMSC Licensed Master of Memory
WHO ENDORSES THE CERTIFICATES
The Ratification / Awards Committee of the World Memory Sports Council, which numbers amongst its members major world leaders and mind sports champions in key areas of brain fitness.
The founders of the World Memory Championships in 1991 head the committee and will be the co-signatories for all certificates.
Tony Buzan, Records Arbiter. Inventor of Mind Maps. Co- Founder of World Memory Championships
Ray Keene OBE, International Chess Grandmaster. Co- Founder of World Memory Championships
The Ratification/ Awards Committee also includes:
Dominic O'Brien, 8 times World Memory Champion
Michael Crawford, Director, Institute of Brain Chemistry and Human Nutrition, Imperial College, London
Sue Whiting, Former World Women's Memory Champion
David Taylor MA, Past Master of the Guild of Educators
Professor Jackie Eales, Head of Human Resources, Christchurch University Canterbury
Michael Gelb, USA
Prince Mohsin Ali Khan, Hyderabad, India
Prince Marek Kasperski, Australia
WMSC Memory Championships Club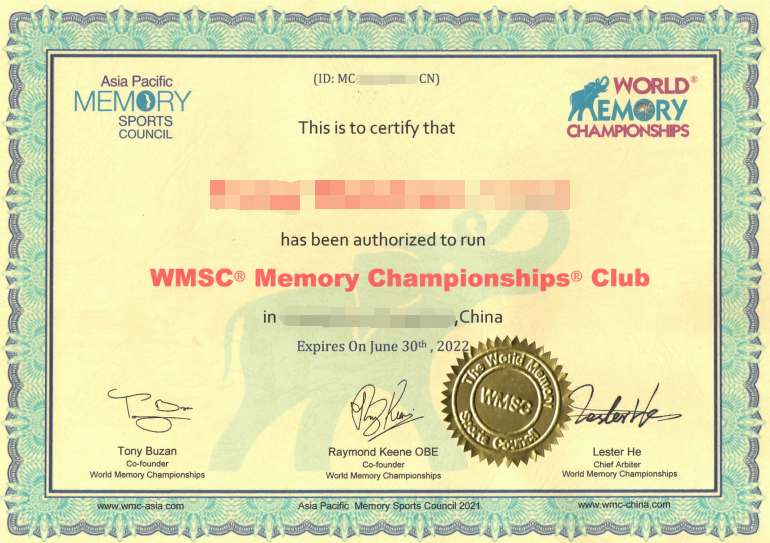 The purpose of WMSC Memory Championships Club
Spread the brain science, popularize the memory sports, provide more opportunities for the vast number of memory sports players.
Provides accreditation and rankings for memory sports players according to the normative standards established by the World Memory SportsCouncil (WMSC).
Recognize the art and science of memory, prove that memory is the foundation of innovation, and restore people's faith and pleasure in memory.
Create a communication platform for like-minded people interested in exploring the human brain and its memory and potential.
The business scope of WMSC Memory Championships Club
LMM(Licensed Master of Memory) " Master of Memory" (level 1-10) level certification test or competition (certified referee operation).
WMSC Licensed Arbiter of Memory (LAM)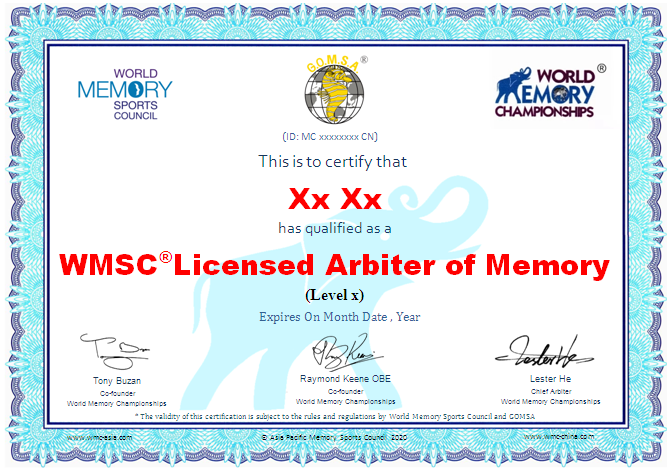 Every Arbiter (Level 1), when they have received the arbiter's training designed by Lester He and organized by different regional memory sports councils in different language areas, can apply to the regional council for the authorization to run a WMSC Memory Club and organize the "Master of Memory" Level 1 – 10 Certification test in their region.
Each applicant will be granted a "Master of Memory" Level 1 – 10 Certificate when they pass the relevant test under the supervision of the licensed arbiters and the arbiters provide their signed test results to the regional Memory Sports councils for approval.